What if I have an after hours emergency with my pet?
Currently Dr.Beggs is our only veterinarian so while he tries to do most of the after hours cover himself,there are times when emergencies are referred to another veterinary clinic to allow Dr.Beggs time off with his family. The contact number of the emergency vet will be on our answering machine or on the cell phone message but we are fortunate that Windhoek Veterinary Clinic assists us in this regard. WVC's number is 228 405 or 081 124 1668 but is for emergencies only please.
Vaccination saves lives!
Despite much negative publicity regarding vaccines, there is no doubt that correctly administered vaccines save our pets from horrific,often fatal diseases such as Parvovirus(Catflu), Distemper in dogs and Panleucopenia and Feline Leukaemia in cats.We advise keeping your pets isolated on your property until 3 weeks after they have completed the full puppy or kitten course of vaccines to allow the immune system enough time to build up optimal defences.
The reasons to spay or castrate your pet.
Spaying pets before their first heat cycle reduces later risk of uterus infections, milk gland cancers as well as unwanted pregnancies and certain sexually transmitted diseases (brucellosis,TVT). Spaying also removes the hassle of cleaning up after your dogs' bloody discharge and keeping her physically separated from males for 3 weeks every 6 months.
The side effects of spaying such as weight gain and bladder incontinence can usually be easily managed. Castration prevents roaming,urine marking, reduces aggression and risk of many prostate diseases and cancer of the testis. Please ask our vet if you have any questions or need to discuss the matter in more detail.
Ticks and fleas- why bother?
Most of our pets will get exposed to ticks and fleas, some even on a daily basis. Ticks can transmit serious diseases such as Tick Bite Fever ( Ehrlichia and Babesia) or cause severe wounds from their mouth-parts (Hyalomma spp).Fleas can cause Flea Bite Allergy in 25% of adult dogs and 30% of adult cats , transmit tapeworms(Dipylidium spp) in dogs and cats ,and certain blood borne diseases(Hemobartonella/Mycoplasma) in cats.We advise monthly applications of Frontline Plus or Fibrotec as prevention of these problems.
How should I prepare my pet for a routine surgery such as spaying or castration?
We advise that pets do not have access to food from about 20h00 on the evening before their surgery and that you remove access to water first thing the next morning. We do this to reduce the risk of regurgitation of stomach fluid while under anaesthesia which can have serious side effects for your pet. Unless alternative arrangements have been made, we ask that all surgical patients arrive between 07h30 and 8h00 to be admitted to hospital .If there is anything else you want us to check or do ( such as check ears,anal glands,pedicure or install a microchip) please mention this at admission. Once your pet is in recovery, we will contact you to let you know and arrange a pickup time in the afternoon. All patients receive pain medication and a wound care pack to go home with.
How often should I treat my pet against parasites?
We advise that all pets be dewormed with a safe, effective product every 3-6 months. Young puppies and kittens,dogs which scavenge and cats which hunt, and any pets with contact with small children ( <7 years) should be done every 3 months routinely.Safe, effective tick and flea prevention should be applied every 4-5 weeks : we reccommend Frontline Plus or Fibrotec spot-ons because of their extreme safety profiles

Eclampsia in pets
My dog/cat recently had puppies/kittens and is starting to show strange twitches and spasms
What is eclampsia?
Eclampsia is a life-threatening condition in dogs and cats that have recently had a litter of puppies or kittens. It has been seen in pets that are pregnant or giving birth, but more commonly occurs one to four weeks after giving birth. It is a medical emergency caused by a sudden drop in blood calcium levels, usually due to calcium loss during pregnancy and nursing.
Coughing
My pet seems to have a persistent cough. What caused it and what can I do about it?
Coughing is one of the most common syndromes veterinarians all around the world encounter during consultations. Coughing in itself is not a disease, but a symptom of something else in your pet. The onset, type of cough, duration and production will help the vet to get to the bottom of what's going on inside your pet.
What is coughing?
Coughing is an audible, forceful expelling of air from the lungs usually in an attempt to clear the airways. Forceful expulsion of air should follow forceful inhalation for the whole action to qualify as a cough. A cough is actually a protective reflex of the body, which signals the presence of an underlying condition. Coughing is generally classified into two main categories namely a wet/productive cough or a dry/non-productive cough. A wet cough is one in which there is an accompanying fluid or mucous discharge seen with each episode; while a dry cough has no discharge or fluid.
Is my dog ill?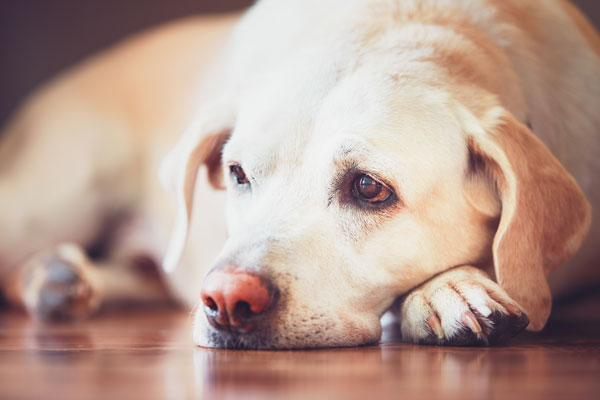 Common signs of illness in dogs
Thanks to the nationwide lockdown, we'll all be spending the next three weeks in the constant company of our furry friends. As the days go by, you may notice some behaviours or signs in your dog that you haven't noticed before and may wonder if these are cause for concern. This article will outline the most common signs of illness that you may notice in your dog.
Is my cat ill?
Common signs of illness in cats
Thanks to the nationwide lockdown, we'll all be spending the next three weeks in the constant company of our furry friends. As the days go by you may start noticing some behaviours or signs in your cat that you haven't noticed before and may wonder if these are cause for concern. This article will outline the most common signs of illness that you may notice in your cat.
My cat is eating like crazy and not picking up weight
Hyperthyroidism in cats
What is hyperthyroidism?
Hyperthyroidism is a condition that arises from an excessive production and secretion of active thyroid hormones by an abnormally functioning thyroid gland. First recognised in the late 1970's, the frequency of diagnosis has escalated dramatically - currently it is the most common endocrine (hormone system) disease in cats and also one of the more frequently diagnosed disorders in the veterinary field. The condition is estimated to affect 1 in 300 cats.
My cat has suddenly gone lame in her hindquarters and seems to be in a lot of pain
Feline Aortic Thromboembolism
What is Feline Aortic Thromboembolism?
Feline Aortic Thromboembolism (ATE) is a condition in cats where a big blood clot settles and blocks the main artery (the aorta) running from the heart to the cat's hind legs. The clot typically settles near the pelvis, where the aorta divides into the two main arteries that extend into the legs.
My pet is vomiting
Is vomiting a sign of an upset tummy?
Vomiting is one of the most common symptoms of disease seen in pets. It can be quite alarming to see your pet vomit up all his or her food or alternatively continuously wretch and only bring slime or bile. So should you rush your dog or cat to the vet immediately when you see them vomit, or is it safe to wait and see? Because there are so many causes of vomiting, we recommend that if you are ever in doubt, it is always better to visit the vet and have it seen to, even if it is just to put your mind at ease and prevent it from progressing to something more serious.
My older German Shepherd Dog seems to be getting weak in its hindquarters
Degenerative Myelopathy
This article outlines a genetic disorder that mainly German Shepherd dogs are prone to. There are other breeds affected by this condition too like Chesapeake Bay Retrievers, Corgis, Boxers, Wirehaired Fox Terriers and Rhodesian Ridgebacks, however, the disease is mostly seen in German Shepherds.
If one breaks down the name of the disease it describes what happens with the disease. Degeneration refers to a breaking down or deterioration of something. That "something" in this case is myelin which is the insulating sheath around neurons in the spinal cord. Neurons are the "electrical wires" of the nervous system and one can compare myelin to the insulating plastic around the wires, almost like one would find with an electrical cord. Whenever a term is followed by "pathy" it refers to a disease or disorder in a certain part of the body. In this case the spinal cord.
My dog is ravenously hungry all the time and eats like a beast but is as thin as a rake.
Exocrine pancreatic insufficiency in dogs
Why is the pancreas important?
The pancreas is a small, light pink, glandular organ that is situated between the stomach and the duodenum (part of the small intestines). It has many important functions, all of which can be classified into two main categories namely endocrine and exocrine.
The endocrine function of the pancreas refers to its hormone-producing cells. Hormones are small chemical messengers that are released into the bloodstream. Two important hormones produced by the pancreas are glucose and glucagon, both of which are important in maintaining blood sugar levels.
When should I be worried about my cat's coughing?
Coughing in cats
A cough can be described as a sudden, forceful expiration of air through the glottis (part of the throat). It is usually accompanied by an audible sound (something that can be heard), which is often preceded by an exaggerated inspiratory effort (a big breath in). Cats, just like humans, may cough occasionally to clear their throat or because they have an irritation but coughing can be a clinical sign for a varying number of serious conditions in cats.