What if I have an after hours emergency with my pet?
Currently Dr.Beggs is our only veterinarian so while he tries to do most of the after hours cover himself,there are times when emergencies are referred to another veterinary clinic to allow Dr.Beggs time off with his family. The contact number of the emergency vet will be on our answering machine or on the cell phone message but we are fortunate that Windhoek Veterinary Clinic assists us in this regard. WVC's number is 228 405 or 081 124 1668 but is for emergencies only please.
Vaccination saves lives!
Despite much negative publicity regarding vaccines, there is no doubt that correctly administered vaccines save our pets from horrific,often fatal diseases such as Parvovirus(Catflu), Distemper in dogs and Panleucopenia and Feline Leukaemia in cats.We advise keeping your pets isolated on your property until 3 weeks after they have completed the full puppy or kitten course of vaccines to allow the immune system enough time to build up optimal defences.
The reasons to spay or castrate your pet.
Spaying pets before their first heat cycle reduces later risk of uterus infections, milk gland cancers as well as unwanted pregnancies and certain sexually transmitted diseases (brucellosis,TVT). Spaying also removes the hassle of cleaning up after your dogs' bloody discharge and keeping her physically separated from males for 3 weeks every 6 months.
The side effects of spaying such as weight gain and bladder incontinence can usually be easily managed. Castration prevents roaming,urine marking, reduces aggression and risk of many prostate diseases and cancer of the testis. Please ask our vet if you have any questions or need to discuss the matter in more detail.
Ticks and fleas- why bother?
Most of our pets will get exposed to ticks and fleas, some even on a daily basis. Ticks can transmit serious diseases such as Tick Bite Fever ( Ehrlichia and Babesia) or cause severe wounds from their mouth-parts (Hyalomma spp).Fleas can cause Flea Bite Allergy in 25% of adult dogs and 30% of adult cats , transmit tapeworms(Dipylidium spp) in dogs and cats ,and certain blood borne diseases(Hemobartonella/Mycoplasma) in cats.We advise monthly applications of Frontline Plus or Fibrotec as prevention of these problems.
How should I prepare my pet for a routine surgery such as spaying or castration?
We advise that pets do not have access to food from about 20h00 on the evening before their surgery and that you remove access to water first thing the next morning. We do this to reduce the risk of regurgitation of stomach fluid while under anaesthesia which can have serious side effects for your pet. Unless alternative arrangements have been made, we ask that all surgical patients arrive between 07h30 and 8h00 to be admitted to hospital .If there is anything else you want us to check or do ( such as check ears,anal glands,pedicure or install a microchip) please mention this at admission. Once your pet is in recovery, we will contact you to let you know and arrange a pickup time in the afternoon. All patients receive pain medication and a wound care pack to go home with.
How often should I treat my pet against parasites?
We advise that all pets be dewormed with a safe, effective product every 3-6 months. Young puppies and kittens,dogs which scavenge and cats which hunt, and any pets with contact with small children ( <7 years) should be done every 3 months routinely.Safe, effective tick and flea prevention should be applied every 4-5 weeks : we reccommend Frontline Plus or Fibrotec spot-ons because of their extreme safety profiles

Fireworks and Thunderstorms and your pet
Anxiety Attacks in pets
Anxiety and angst is as much part of the animal world as it is of the human world. As humans, the way in which we manage stress and anxiety is largely related to our understanding of our environment and an interpretation of cause and effect. Unfortunately this is not the same for animals. A human who is about to set off a large fire cracker can warn all those around them of the impending bang, and prepare everyone for the impact. However explaining to a dog or cat that the glitter of a burning fuse will lead to a thunderous crack to which they should not respond, is impossible. Add to that the anatomy of animals' ears which have been specifically designed to amplify sounds by turning the ears towards sounds, and you have a recipe for disaster when it comes to shooting off fireworks in the vicinity of animals.
New puppies and kittens - Part 3 of 3
Breeding with my dog or cat � Should I or should I not?
Nobody will dispute the cuteness of puppies or kittens. These adorable little creatures really pull at the heartstrings and appeal to young and old. However spending some time in a puppy or kitten shelter and seeing what undernourished or uncared for puppies or kittens look like, will make anyone who is serious about the well being of animals think twice about indiscriminate breeding.
Urination problems in cats - Part 2 of 2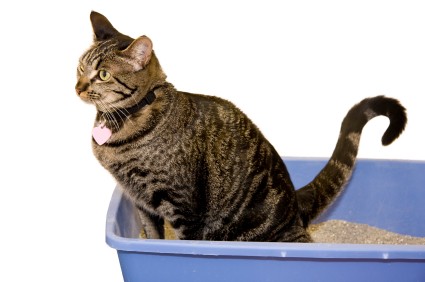 Territorial marking and Urine elimination
In part 1 of this article we looked at the difference between urine marking and inappropriate elimination in cats, and urine marking was discussed in more depth. In this article we will look at the reasons for inappropriate elimination as well as the diagnosis and treatment of both inappropriate elimination and urine marking.
In order to understand disease of the urinary system it is important to understand the anatomy of this system. The urinary system comprises two kidneys which are linked to the bladder by two tiny tubes called the ureters. The ureters terminate in the lower part of the bladder commonly referred to as the neck of the bladder. The bladder is a balloon like structure which can expand to many times its empty size when it is filled with urine. The main tube taking urine from the bladder to the genital organs is called the urethra. The urethra terminates in the vagina in female and in the penis in males.
Urination problems in cats - Part 1 of 2
Territorial marking and Urine elimination
Ask any cat owner and they will tell you that cats are not just small little dogs. So naturally a fair amount of the medical problems cats suffer from are unique to this species. In this two-part series we are going to explore one of the more common problems that affect cats.
Getting the most from your visit to the vet
Visit to the vet
Everybody wants value for money. No one will deny that it is no different when taking your pets to the vet. We love our four legged and feathered friends dearly, but like everything else in life, most of us have to budget for their expenses, and make sure we derive as much value out of a visit to the vet as possible.
The starting point of deriving value for money is to be courteous to the staff working in a veterinary practice. Being rude and obnoxious with the staff of the veterinary practice (especially the reception and support staff) will not endear you or your pets to them, and if you get their hackles up before the vets have even seen your animal, the total experience of visiting the vet is likely to be compromised in the long run.
We're all going on a Summer Holiday
Traveling with your pets
Going on holiday is always fun but we must never forget or neglect our pets in the excitement leading up to a well-deserved vacation.
When going on holiday find someone to look after your pets while you are away. It will be a good idea either to get a house sitter or place your pets in a kennel over the holidays as medical problems can just as easily arise when you are not at home. Giving the vet notice of your impending holiday and making arrangements for someone to take your pets there in case of an emergency is an important part of your holiday planning. Also, stock up on enough food and make sure your pet has enough medicine if they are on chronic medication.
Your pet's once a year health check-up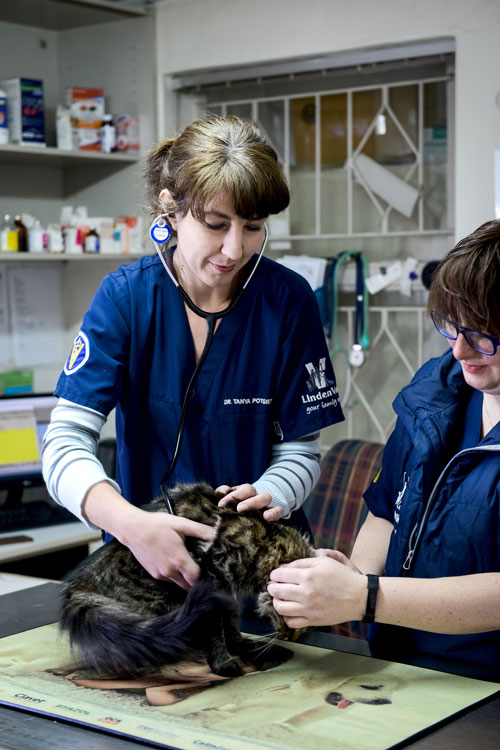 Annual Check up
Many people wonder why vets recommend having a once a year check-up for pets. There are many reasons but probably the most important is that the average dog or cat ages by approximately seven "dog/cat years" for every human year. It may differ slightly from breed to breed and usually cats and small breed dogs age slower than large breed dogs. The average life expectancy of a large breed dog is about twelve years whereas cats and smaller breed dogs can quite comfortably live to eighteen years. Just like in humans where the average life expectancy has increased dramatically over the last twenty years because of better healthcare, proper nutrition and a general improvement in living conditions, so has the life expectancy of our pets. Animals which are kept as domestic pets live a much more sheltered lifestyle than their wild counterparts, where there is little protection from natural predators and harsh environmental conditions. Nutrition for pets has also become a much more advanced science than in years gone by and these days it is quite common to find specialised diets for life stages, breed types and conditions. The average quality of life and life expectancy in large breed dogs who suffer from arthritis has been substantially increased because of specialised diets catering for their particular needs.
Behaviour difficulties
Behaviour
"Man's best friend." The reason why dogs have been described like this over centuries is because of their unwavering loyalty and their good nature towards humans. However now and again, behavioural problems crop up in pet dogs which cause many people to dispute whether dogs are really man's best friend. Behavioural problems can range from aggression, to destructive behaviour like chewing and digging, to house soiling. Some of these problems can be blamed on uninformed and uninvolved owners who do not spend the time to properly socialise and do basic training when they first acquire their dogs as puppies.
Vaccinating your puppy and kitten
Vaccination
Getting a new puppy or kitten is always exciting and most of us just want to cuddle this cute little bundle of fur. It would be lovely if this were enough to keep them healthy and disease free forever but unfortunately it isn't. Just like human children, animal babies also need immunization when they are very young.
A newborn puppy or kitten isn't naturally immune. They do have some antibody protection that they received through the mother's blood via the placenta, but this is roughly only 10%. The other 90% is through the first milk they take in from their mother. This milk is called first milk or colostrum because only the milk produced in the first two days after birth contains antibodies (called maternal antibodies). These antibodies are like little soldiers standing ready to counter any attack from a virus (the enemy). The intestinal lining of the newborn starts changing 6 hours after birth and starts losing the ability to absorb these antibodies. It is therefore very important for new puppies and kittens to start suckling as soon as possible after birth. The newborn is only able to absorb these maternal antibodies for the first two days of its' life. Proper vaccination of the mother will ensure that she has proper antibodies levels which can then be passed on to her babies. If for some reason the puppy or kitten did not receive this precious colostrum (fostered pets, bottle fed pets or perhaps failure of the mother to produce milk), they will be at a greater risk of contracting disease.